Once upon a time there was a young business that had a name but no logo :(
This business looked here and looked there, but just couldn't find any design that was the right fit.
What this young business wanted was a logo with a story to match the story of the business itself!  And then after getting to work with a very creative local designer, the logo that you see pictured was ready to share with the world!
This business is Restore Earth Connections and the beautiful logo is the creation of the talented and amazing, Kirsten Breckenridge of Assorted Colours! @assortedcolours.  Thank you Kirsten!!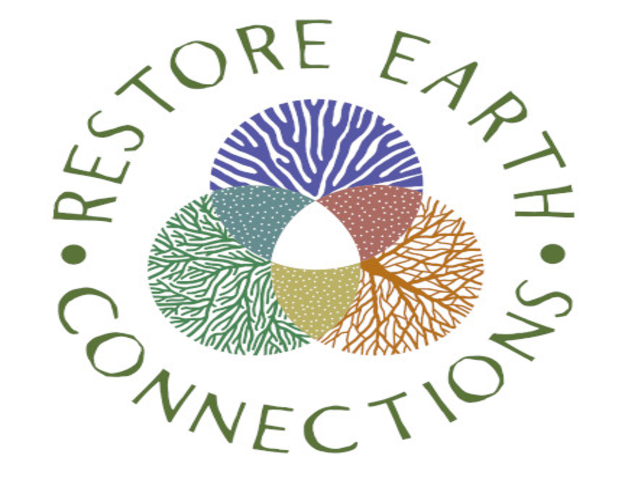 Kirsten conveys so much in this design.  She listened as I shared some of my vision and musings for Restore Earth Connections.  She heard that I wanted it to be dynamic and interconnected like the seasons and our interconnection with the Earth.  I wanted circles and rootedness, flow and wonder.
And I love how her design is so in tune with what I strive for this business to be about:  inspiring wonder and connection with nature.
Take a closer look to notice how expressive the art is.  There's no beginning and no ending—like the seasons, turning, changing, flowing into one another.  Life and death are part of the same circle.  A circle gathers, holds, and in it all are equal.  
Can you see the representation of the 4 seasons? 
Where?  You may wonder. 
Spring is the muddy yellow green, emerging all messy from Winter.  Summer is green, vibrant with life.  Fall is the reddish brown, leaves letting go and dying.  And Winter--?  It's there!  Comment when you find it!
What of the intricate interconnected circles of Blue, Green and Red?  What is their design expressing? 
Blue is for Borage, flower of courage, delicate and strong, edible and nourishing to pollinators, humans, and the soil!  And blue is for the waters, spreading like an estuary, rich with life.
The many Greens are for growing plants, evergreens, our growth as humans, branching out.
The Reddish brown is for soil, bark, salmon, and the roots that form an interconnected underground web.
Each aspect conveys a pattern in nature – the variety of branching patterns and the repetitive circles.
What else do you see?  What most speaks to you?  Please share your thought in the comments, if you will.